Spirit of "TATARA" still alive in our time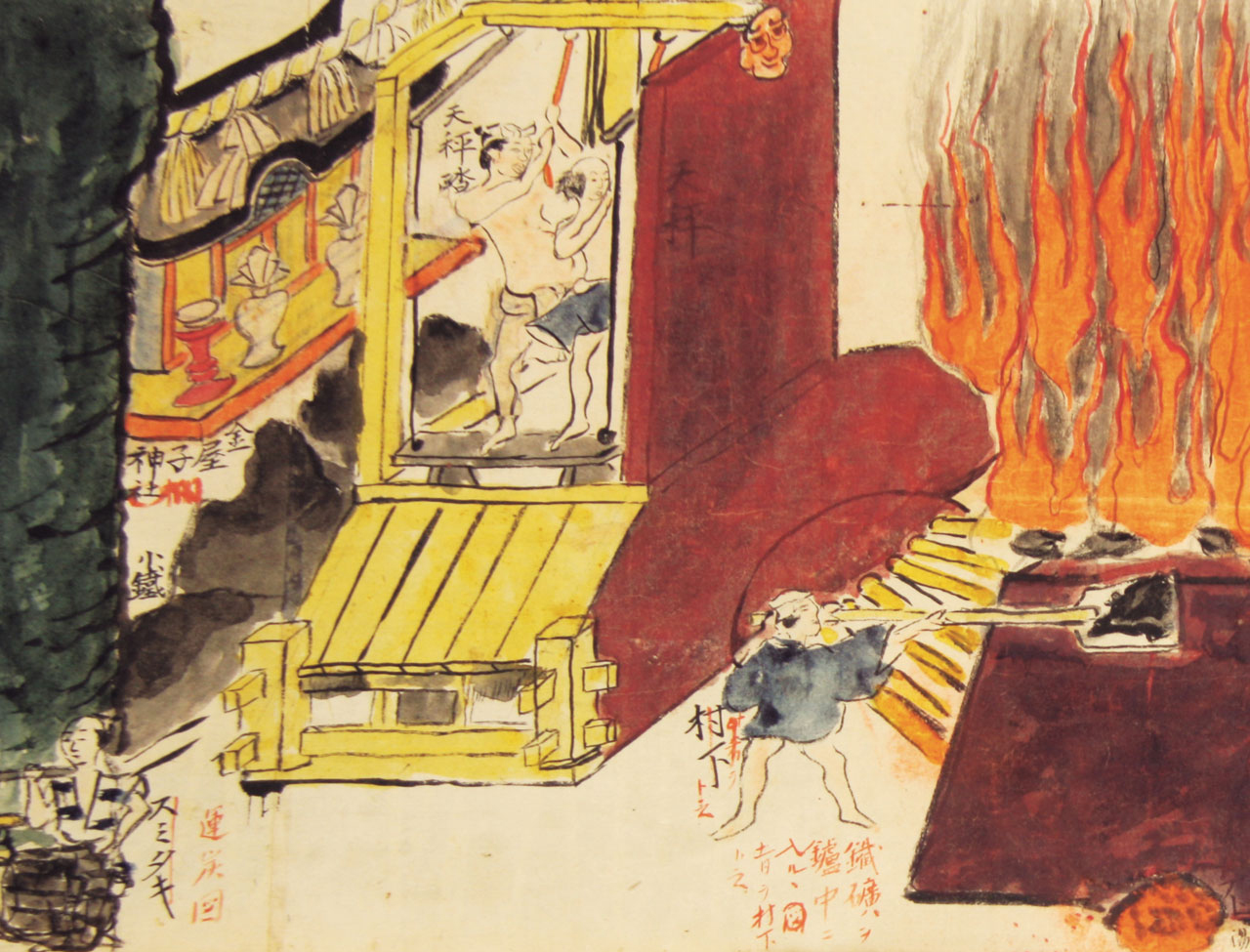 Scene of old iron manufacture by "TATARA" process
The products born from the beautiful nature and the feature of Chugoku district (iron sand, charcoal) naive natives' idea and efforts both of which has been intermingled and has brought up the technique of "TATARA". The birth of the technique go up to the time of Izumo myth (about 2650 years ago) "The Sword of Amenomurakumo" which was swallowed in the tail of an eight-head snake, and the trend of the history and the culture of this district makes us slightly nostalgic.
"TATARA" is the technology of making iron in which iron sand and charcoal produced in Chugoku district are put into a furnace, are melted by blowing-in with "a balance bellows". In feudal time, famous Japanese sword was produced by using this technique, which in farm villages farming equipments were produced, too.
The spirit of "TATARA" along with the historical facts of the "TATARA" has long been told to our descendants and now lives in intent posture of casting technology.
Company History and Profile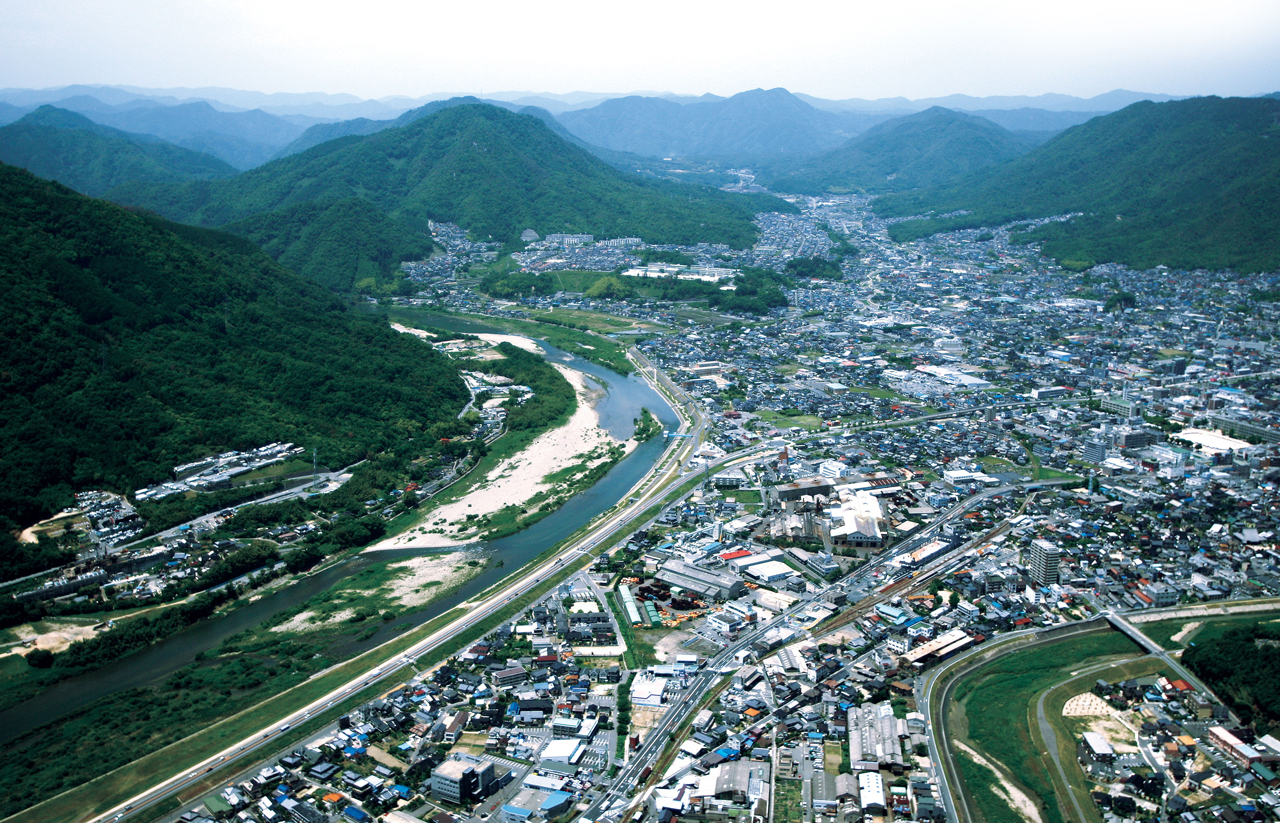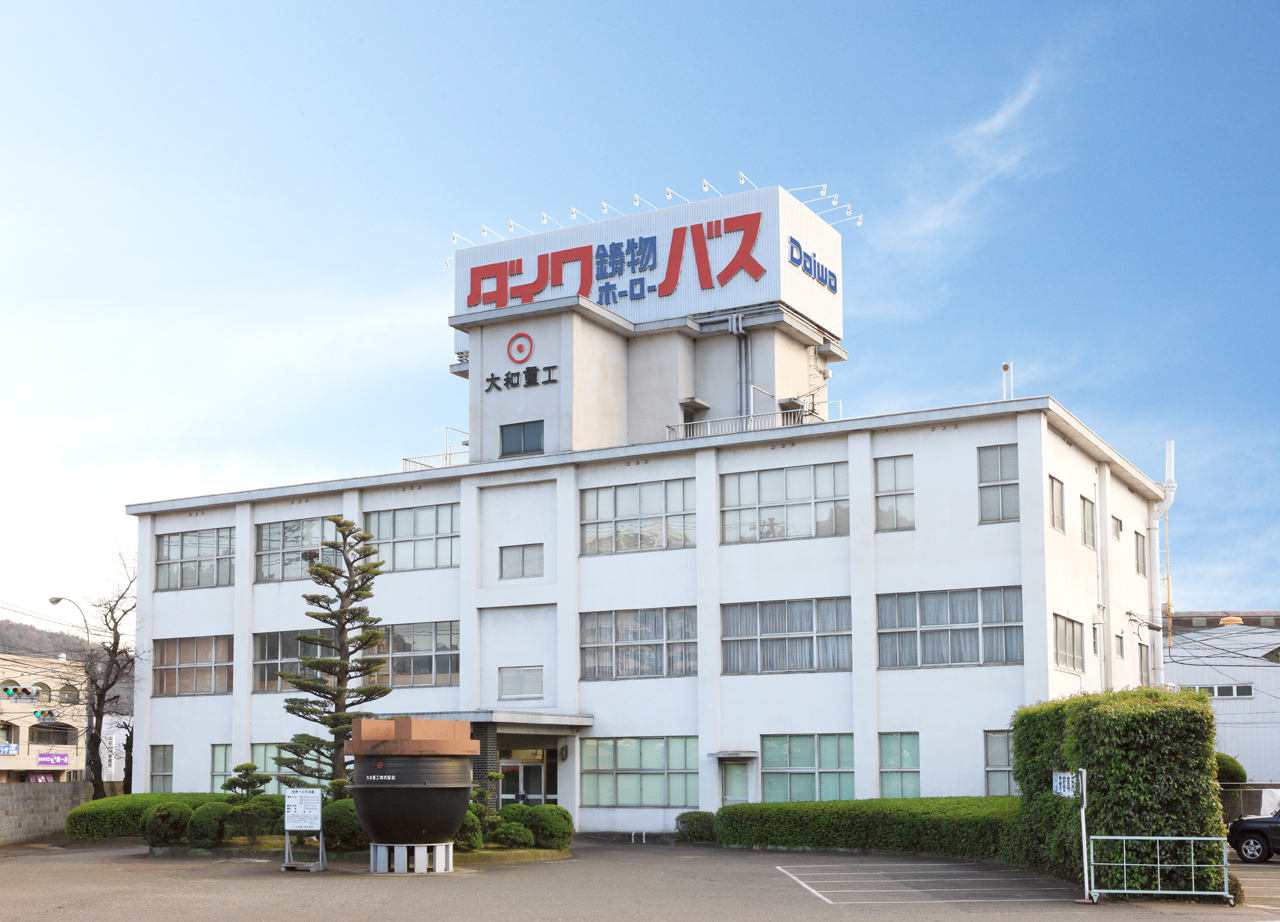 Head office and factory in the town of Kabe with the Ohta-gawa river
The greatest special features of our company is the casting technology which exceeds the world standard and has established the position as a top maker in quality and quantity for our technical skill by technical innovation and facility rationalization.
Our company was incorporated in March 1920 from the former individual management at the capital of 500 thousand yen formerly the business date to 1831 of manufacturing of pots and kettles.
Since then we have added machine factories to the casting factory and we made fine showings by manufacture and repair of various kinds of machinery.
After World War II, Japanese economy started its remarkable restoration and demand expanded in keeping pace. To cope with this trend, our company promoted the modernized casting facility and began to use newly produced machine tools. We have been improving along with the development of Japanese economy.
Since establishment, DAIWA has become a company of 651 million yen in its capital and 1,500 ton/month in its production capacity by several times' merger of same line companies and an increase of the investment.
Profile
| | |
| --- | --- |
| Company Name | Daiwa Heavy Industry Co., Ltd. |
| Foundation | 1831 |
| Establishment | 1920 |
| Capital | 651,000,000 yen |
| Head Office | 1-21-23 Kabe, Asakita-Ku, Hiroshima, Japan |
| Sales Office | Tokyo, Osaka, Hiroshima, Fukuoka |
| Telephone | +81. 82. 814. 2101 |
| Facsimile | +81. 82. 814. 2109 |
Industrial Machinery Division Products
Casting parts for machine tools
Casting parts for machine internal combustion engines
Systems for machine tools
Ductile cast iron parts
Surface plates
Housing Equipment Division Products
Daiwa enameled cast iron bathtubs
Construction casting division
Household casting, etc.